Mountain Hotel Malina ***
Horejsi Vrchlabi 524
543 01 Trutnov District
Czech Republic
Tel.: +420 481 582 467 Restaurant
GSM.: +420 777 250 289 Reservation
GSM: +420 777 250 287 Transport
E-mail: info@penzionmalina.cz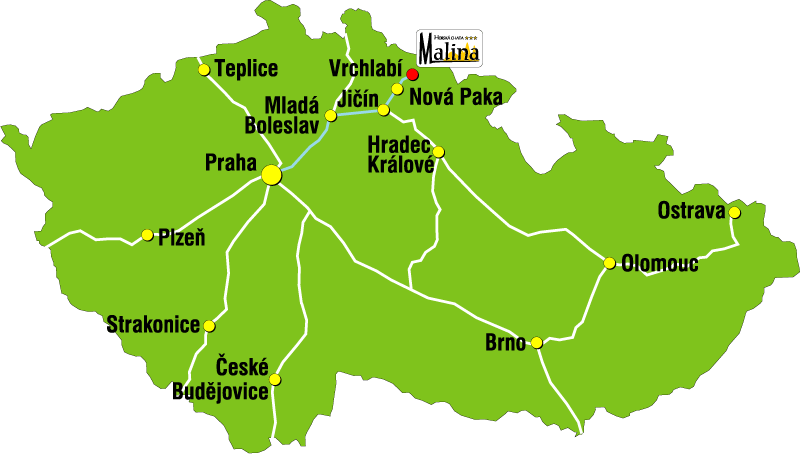 The house walking path around the hill about 20 minutes. Parking is in the same above sea výšsce as a guesthouse. 700 m.n.m.
Pick-up in winter
Friday, Saturday, Sunday
Other days and times for a fee.
Dare guests and luggage in times of 10:30, 15:00, and also by telephone arrangement of the parking lot "Crosswords 700 m.n.m."
Parking crossword – car and price / day 100, -, parking spaces are reserved for you automatically.
In the days of arrival SATURDAY in these times is carried luggage transport bulk the price in any weather
THE DAY OF YOUR ARRIVAL ADVISE ON TEL: 777 250 287 , TIME WHEN YOU WILL BE IN THE PARKING LOT (10:30, 15:00)
NEW OPTION RIGHT ORDER TAXI (400 scooter - snowmobile 2000 -) passenger transportation Groomer INFO ON TEL. 777,250,287.
Directions to the parking lot in the direction of Vrchlabi
Crosswords for Benecko: PARKING IS V 700 m.
Before Vrchlabi drive straight through the roundabout straight direction sp. Mill., 1.5 kilometers per Vrchlabi in front of Hotel "PIVOVARSKÁ BAŠTA" turn left direction Benecko and further 100 m turn to the right direction under the bridge Benecko and then continue. about 4km detour to the village where Mrklov guarded parking Crosswords.
Parking Crosswords: GPS: 50.645401, 15.571942 navigation by souřadnic.KŘÍŽOVKY. see. Intersection of roads Mrklov Benecko.
Parking crossword
Parking crossword
Pension Malina
Pension Malina