Mountain Hotel Malina ***
Horejsi Vrchlabi 524
543 01 Trutnov District
Czech Republic
Tel.: +420 481 582 467 Restaurant
GSM.: +420 777 250 289 Reservation
GSM: +420 777 250 287 Transport
E-mail: info@penzionmalina.cz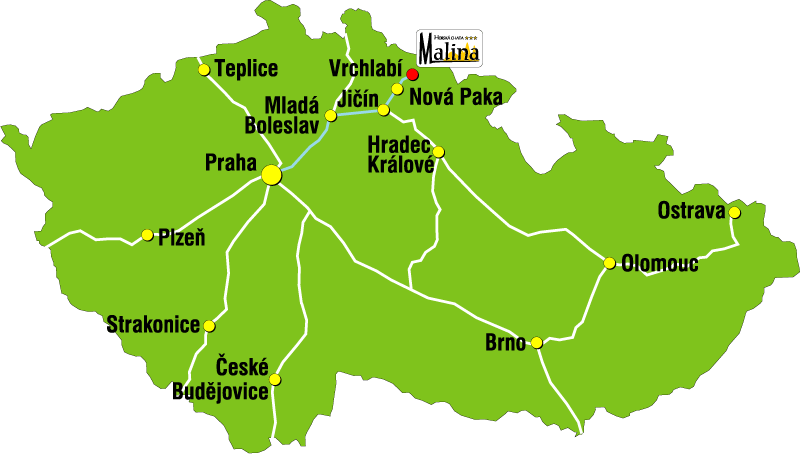 The house walking path around the hill about 20 minutes. Parking is in the same above sea výšsce as a guesthouse. 700 m.n.m.
In the days of arrival FRIDAY, SATURDAY, SUNDAY in these times is carried luggage transport bulk the price in any weather
NEW OPTION RIGHT ORDER TAXI (400 scooter - snowmobile 2000 -) passenger transportation Groomer INFO ON TEL. 777,250,287.
Crosswords for Benecko: PARKING IS V 700 m.
Before Vrchlabi drive straight through the roundabout straight direction sp. Mill., 1.5 kilometers per Vrchlabi in front of Hotel "PIVOVARSKÁ BAŠTA" turn left direction Benecko and further 100 m turn to the right direction under the bridge Benecko and then continue. about 4km detour to the village where Mrklov guarded parking Crosswords.
Parking Crosswords: GPS: 50.645401, 15.571942 navigation by souřadnic.KŘÍŽOVKY. see. Intersection of roads Mrklov Benecko.
Parking crossword
Parking crossword
Pension Malina
Pension Malina